PENILE ENLARGEMENT SURGERY IN THE PHILIPPINES
Men nowadays can quickly scroll through search engines and look for ways to increase the size of the penis, and will be met with thousands of content one second later. The problem? Easy and quick does not guarantee safety and authenticity. So many false advertisements for instant solutions such as creams, pills, and even massage techniques, have been spreading on the internet and social media and have scammed so many clients. Indeed, if there is anything worse than having a small penis and carrying all the physical and psychological baggage attached to it, it's getting scammed with a false penile enlargement trick! Dr. Benjamin Alonzo proudly guarantees a safe and effective Penile Enlargement Surgery in the Philippines for any male client wanting to have a bigger and longer penis. No tricks up any sleeve, just pure expertise and decades of experience!
What is Penile Enlargement?
Penile Enlargement makes the penis bigger by increasing its size, length, and/or width/girth permanently. By using a fat transplant method or tissue filler injections, this surgical procedure can increase the diameter of a small and thin penis and similarly, increase the length. Unlike popular but false trends like penis weights, jelqing, supplements, and creams, penile enlargement and lengthening surgery, if conducted by a certified and skilled service-provider, guarantees a safe process and actual results. Clients discuss different goals with Dr. Benjamin Alonzo, our head surgeon, with some opting for thickening and others going for penile lengthening. The possibilities vary!
Benefits of Penile Enlargement
Penile Enlargement is a popular genital procedure among men. Male clients have different motivations in seeking out this particular cosmetic procedure. It is safe, secure, and effective. Creams, supplements, and pills, as well as stretching exercise, have no scientific backing, and in some cases, even have health and medical implications. In such cases, not only did you get deceived and harmed, but you also wasted money. Penile enlargement surgery will most likely be more complicated, more expensive, and take longer to get results, but again, it is safe and effective! It boosts appearance and confidence (in bed and beyond). "For men, no matter how successful and good looking you are, having a small penis causes psychological problems including insecurity and anxiety and low self-esteem," says Dr. Alonzo. It is typical to feel insecure or overthink about our penis size. While self-love and self-acceptance means that we appreciate our attributes as it is, it can also mean freedom to want change for our bodies. This is especially true for men who receive degrading comments about their size or experience performance anxiety in bed, feeling insecure about satisfying their partners, due to the size of their manhood.
Candidates for Penile Enlargement Surgery
Dr. Benjamin Alonzo requires consultations with his potential clients to gauge their fit to the procedure, both physically and mentally. Some clients have unrealistic goals while others have far-fetched ideas about what penile enlargment does. In case you are considering undergoing the surgery, below are required for penile enlargement surgery candidates:
Be generally healthy to undergo anesthesia and surgery, with no serious ailments or disease
Disclose any other genital surgeries taken before, if any
Not having associated functional disorders (erection disorders, premature ejaculation)
Be willing to stop smoking to prepare for the procedure
Be willing to undergo circumcision, in case required prior to surgery
Bring in realistic expectations and a positive outlook about their surgery
Risk and Safety
Much like any other surgical procedure, Penile Enlargement comes with potential complications. Dr. Alonzo prioritizes this detail during consultations as well, especially since our doctors will only move forward with the surgery once we obtain your written consent. We likewise guarantee that every consultation is strictly confidential. The risks associated with Penile Enhancement include:
Bruising and bleeding at the operation site
Infection
Swelling
Scarring
Change in angle of erection
Nodular formation
Remember that these are only potential problems and are not guaranteed. Following the recovery instructions can certainly help to avoid the above mentioned but in case they occur, please inform us immediately.
Penile Enlargement Surgery
The procedure is conducted as an outpatient procedure in the Alonzo Cosmetic Surgery clinic, a professionally-maintained facility with up-to-date equipment, a calm space and ambiance, and competent staff. The surgery is performed by our surgeons, Dr. Benjamin Alonzo and Dr. Benz Alonzo.
Preparing for Penile Enlargement Surgery
Below are few things to expect in your preparation:
Undergo medical examination or lab testing
Refrain from smoking for a week before and after the procedure
Take certain medications or adjust existing one
Discontinue medicines that increase bleeding including aspirin, anti-inflammatory and anticoagulant drugs
The Surgery
Penile girth enlargement surgery is done under local anesthesia and takes about 30 minutes to finish. Using the method of fat transplant or fat grafting, the procedure enhances either the length or girth of the penis by transferring the patient's own fat supply from a donor area, typically the abdomen or the thighs, to the treatment area, creating significant changes to the penile shaft. The process starts with liposuction, Dr. Alonzo creates small incisions in the donor site and then inserts the cannula to suction out and collect the fat. Next, a small incision is made at the base of the penis where to administer the collected fats. Using the patient's own purified fat helps with avoiding any allergic reactions and serves as a 100% natural filler. Note that 50% of the fats injected gets reabsorbed during the healing period of a month. That's why we overcorrect so that a lot would still remain with good girth size even after reabsorption, and this would relatively be lifetime already. Meanwhile, Penile lengthening is done via ligamentolysis or release of the suspensory ligament. By dissecting the ligament, it would help release a possible hidden length of the penis and let it dangle down, increasing possible length appearance. This is then paired up with the use of an extender device to stretch the penis constantly, maximizing the possible added length.
Recovery and Recuperation for Penile Enlargement Surgery
You will be allowed to go home after your surgery, but be sure to plan beforehand on your transportation back to your place. Once the procedure concludes, your recovery stage begins. Here are what you should expect and do in this phase:
Dr. Alonzo will prescribe antibiotics with sufficient coverage against gram negative and coliform organisms. He will also prescribe analgesic to alleviate any pain and discomfort, which you will take round the clock.
You will be advised to rest in bed and apply an ice pack to the scrotum until the next day after your operation. An antibiotic ointment will also be applied to the wound area to keep the incision moist and protect the wound from possible auto contamination.
You can go back to work or school after a week, but avoid engaging in strenuous activities like sports and exercise for at least a month. Sex can be resumed after a month or so.
Results from Penile Enlargment Surgery (Before and After)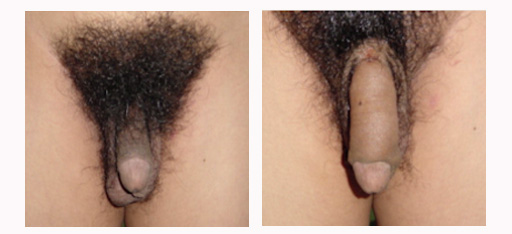 Penile Enlargement Surgery is gaining popularity among men because of its promised permanent results. In successful cases, an average between 1 - 1.5 inches length and 1 inch girth enlargement can be obtained, the final result of which can be fully seen after a few months but patients can already engage in sexual intercourse for as early as a one month. Patients have been highly satisfied with Alonzo Cosmetic Surgery's service in this aspect, as we have helped clients enhance their manhood and masculinity.